mymetalphantom
1. Because I'm basically an idiot, I changed my email address for LJ when they were having all that comment notification trouble, then I promptly forgot that I had done it. If you wrote a comment to me and I haven't replied...well, that'll be why. *facepalm* I swear, I am clever sometimes.
2. I finally put the finishing touches to my 60s themed living room. Of course, the TV and computer don't quite fit that theme but hey, whatever.
Lounge area.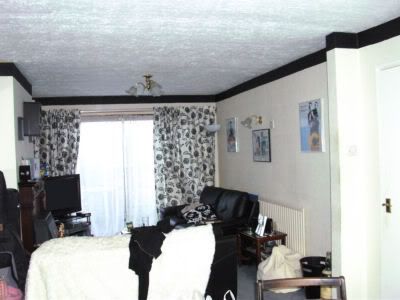 Dining room area.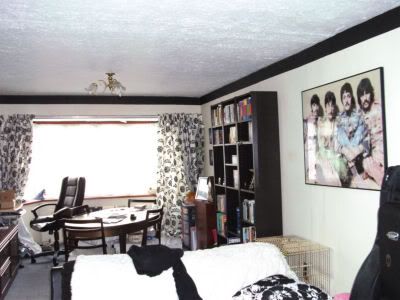 <3 I really love this. It's probably the thing I'm most proud of.
60's TV!
The Prisoner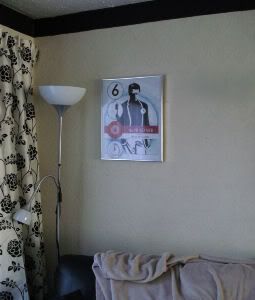 And
The Man from UNCLE
And in the middle, to showcase my Hammer fixation. These are not the best films, but they are pretty cool posters! (I seem to have taken this picture later at night...I have no idea why). Also I love that the
Frankenstein Created Woman
poster completely fails to tell us what that film is about. If you watch it hoping for the film being described there, then you're in for a BIG disappointment. On the other hand, the film is better than the one described on there.
Some 60's Elvis. (You gotta love that people buy me Beatles birthday cards)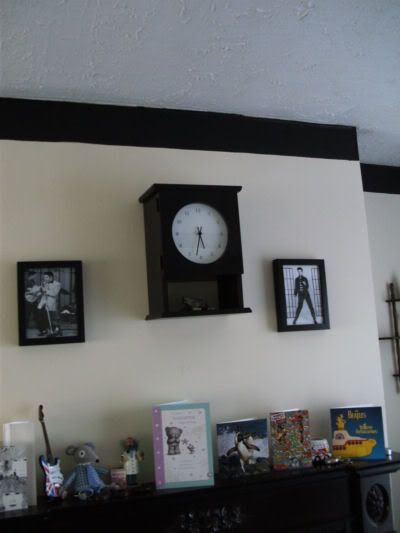 Some Lennon and McCartney being adorable!
And my shiny new bookcase, with added 60's geek features. Dalek cookie jars are the best things ever. (The small white figurine is Francisco Scaramanga, from James Bond, and yes, he's technically anachronistic because he's from the 70s. I'll forgive him though
because he's hot
)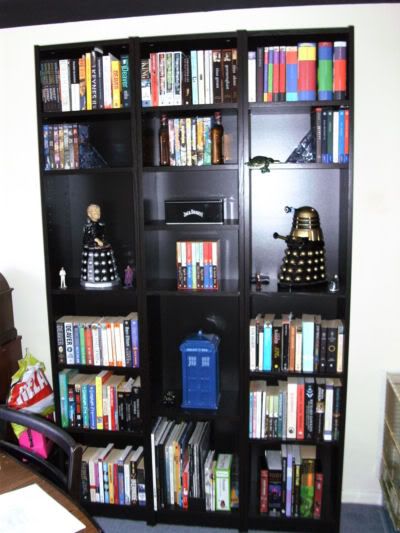 I probably will end up adding more stuff to it, to really give it a more retro feel, but I have to have some, you know, money to do that. I saw this really cool replica Bakelite telephone that I would love to have, but it was pretty expensive.
3. I finally found my college files on the back up of my old hard drive. In one file was the novel that I planned, researched, plotted and wrote three chapters of for my creative writing assignment. I should probably finish that, right? I could be sitting on a best selling novel! *hollow laughter*
4. I would quite like to write some fic, but I've run dry on ideas. Any suggestions?