mymetalphantom
When fandoms collide in a hilarious manner.
So on last Friday's episode of
The IT Crowd
, we saw (part of!) Douglas' porn version of
Star Trek
, where he is Kirk and all the other characters are women.
I laughed till I cried.
I then I
stole
found some .gifs from it!
This woman was AMAZING! I now have a massive crush on her!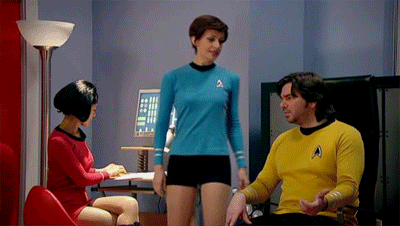 girl!Spock and girl!McCoy have a "fight"...yeah, that kind of fight.
I couldn't love Douglas more...the chauvinist creep.
You might be able to find the full scene on YouTube!
(LOL, I didn't know whether to use a
Star Trek
icon or an
IT Crowd
icon